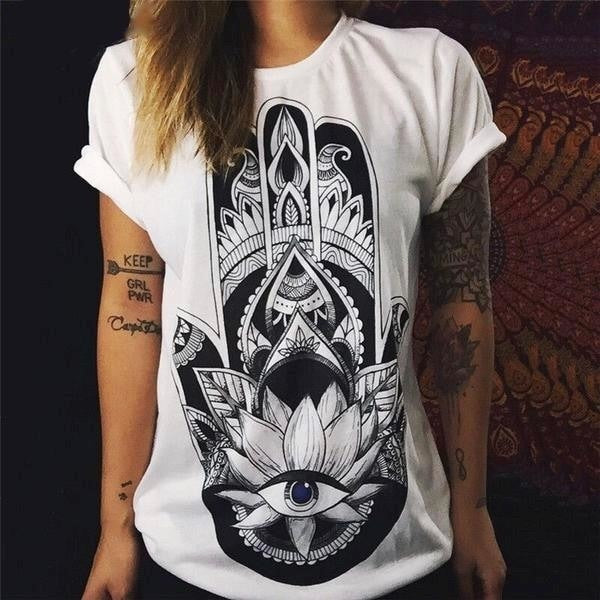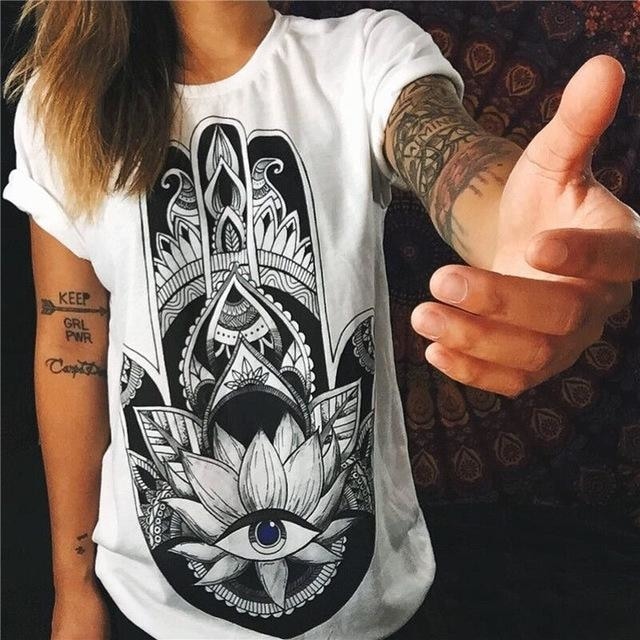 Hamsa Tee
This item is in stock now and ready to ship worldwide.
Scroll down for product details & size specifications.
This stunning Hamsa symbol yoga-inspired t-shirt will quickly become a staple this summer in your zen wardrobe.
With a flattering traditional t-shirt style,  this great little tee is versatile and a staple in your closet!
Bright white with a lovely pitch black Hamsa symbol across the chest!
Within the Hamsa symbol you can see an all seeing eye, lotus flowers, and beautiful sacred geometry and mandalas.

Available in plus sizes up to 2XL!

This cute top fits a little smaller than traditional US sizes so we recommend ordering a size or two up and measuring to be sure!
About The Symbol: 
The Hamsa Hand (or often interpreted as a lotus flower) is an ancient Middle Eastern amulet that symbolized the Hand of God. In all faiths and religions it is considered a protective sign. It brings the owner happiness, luck, health, and good fortune. The hamsa hand has a variety of different spellings which includes hamesh, hamsa, chamsa, and khamsa. It is largely seen worn within the yoga, new age, and spirituality culture!