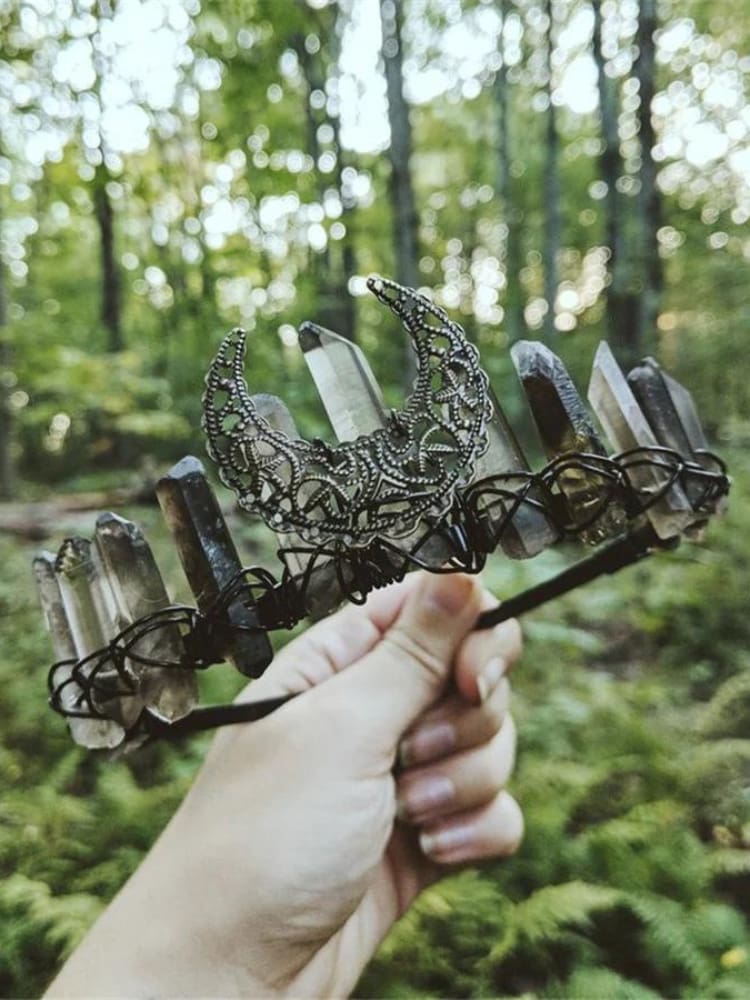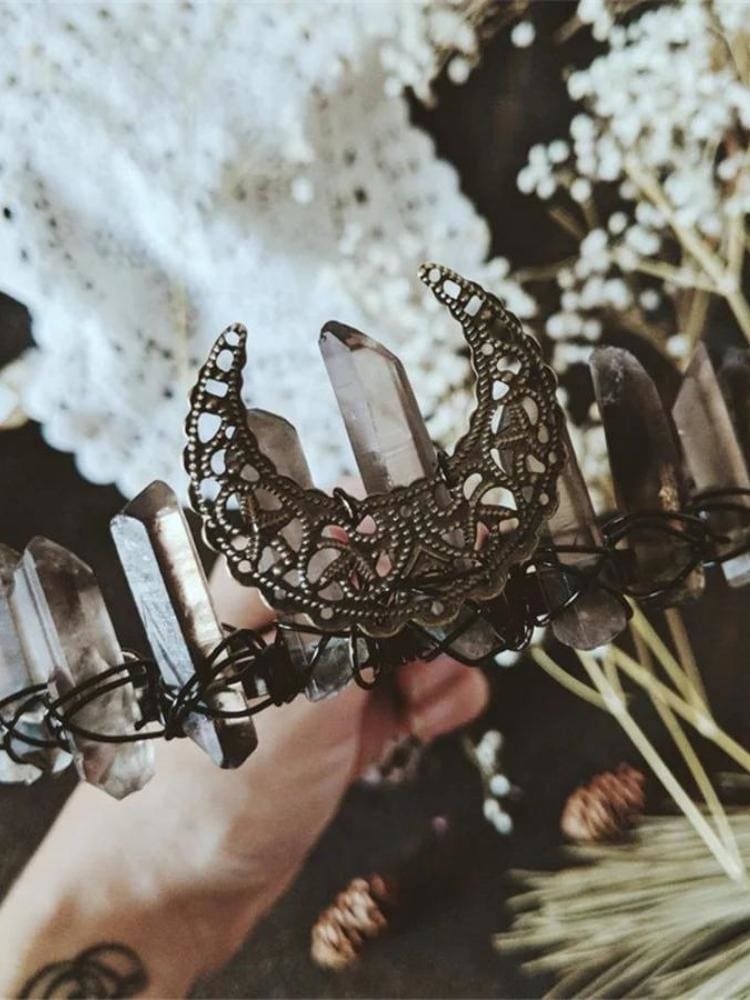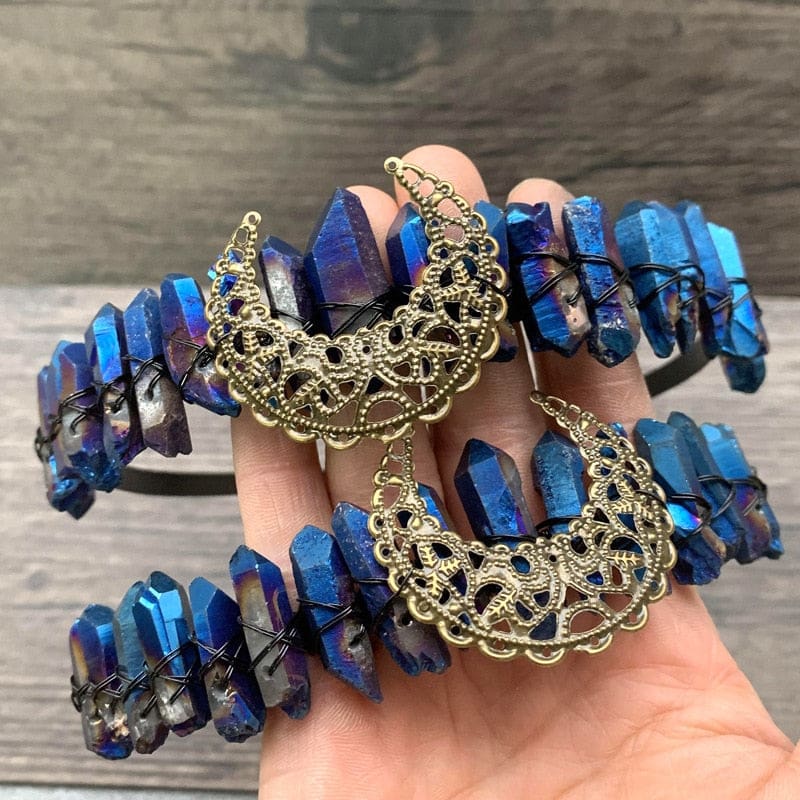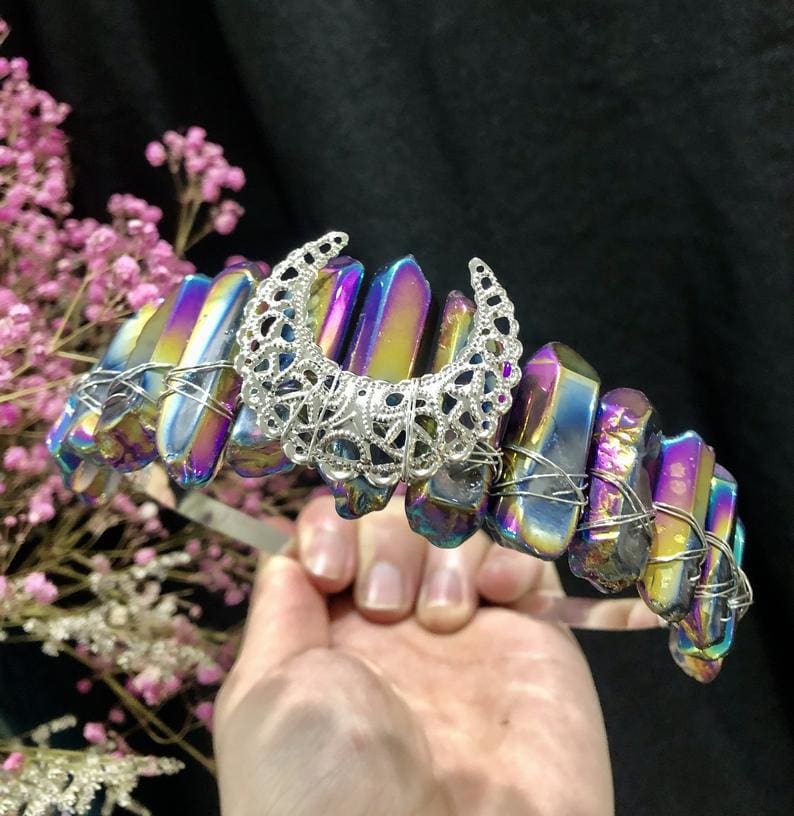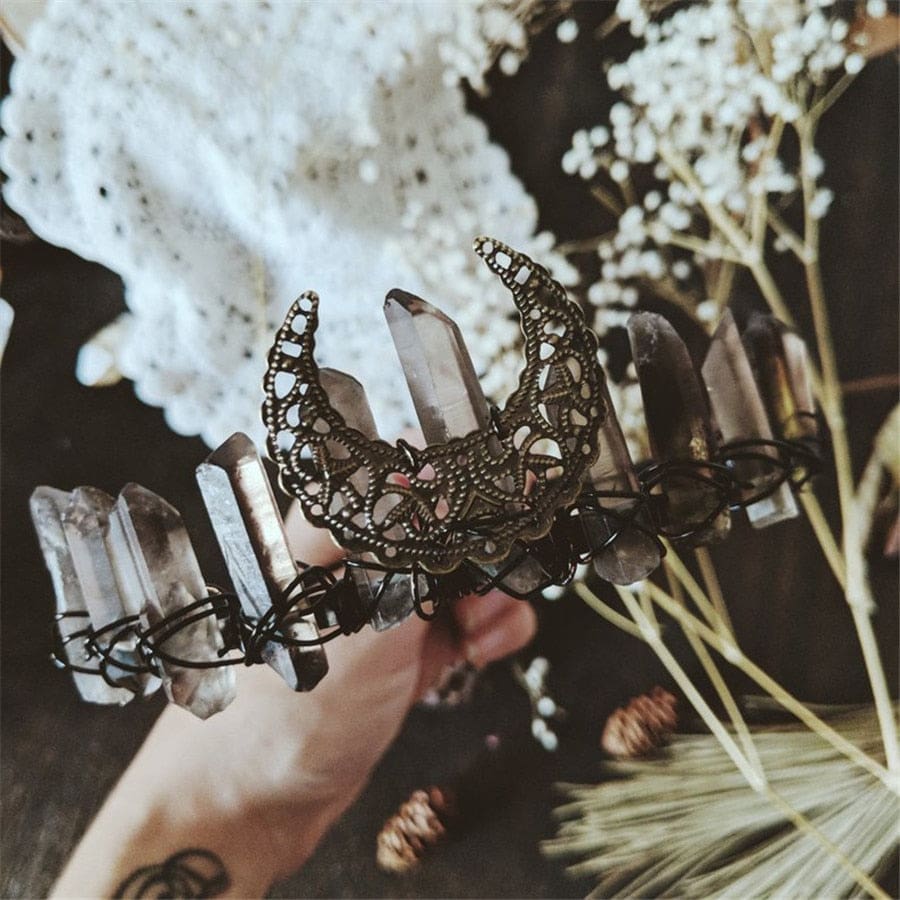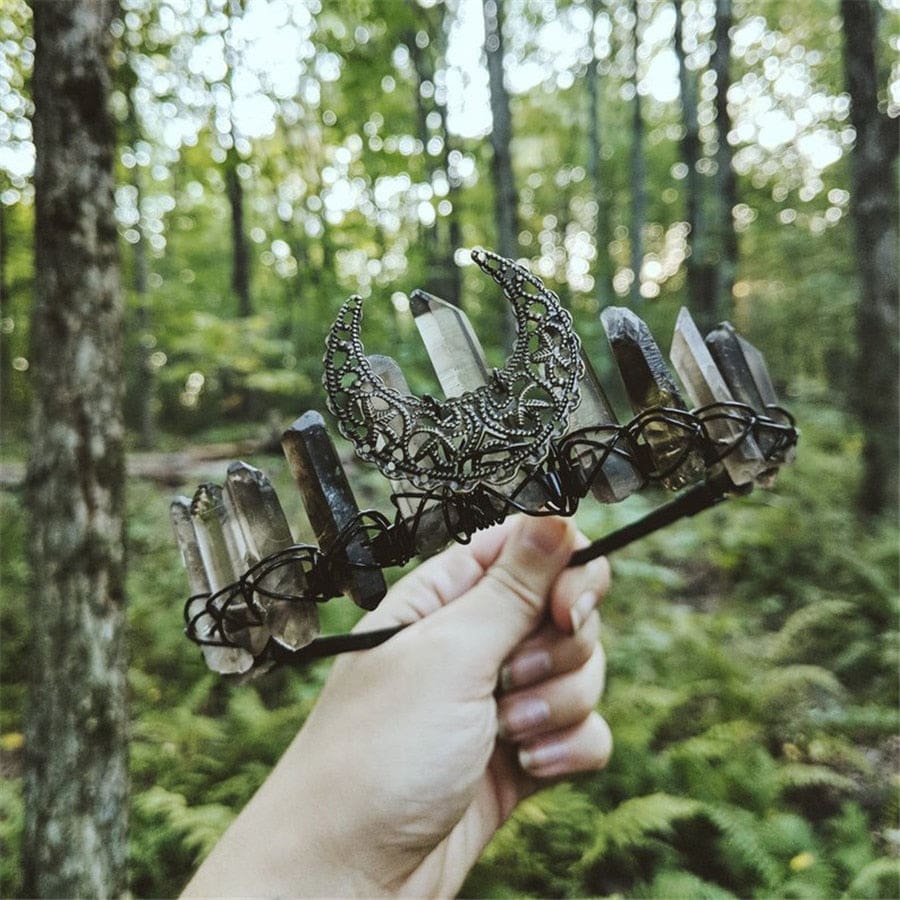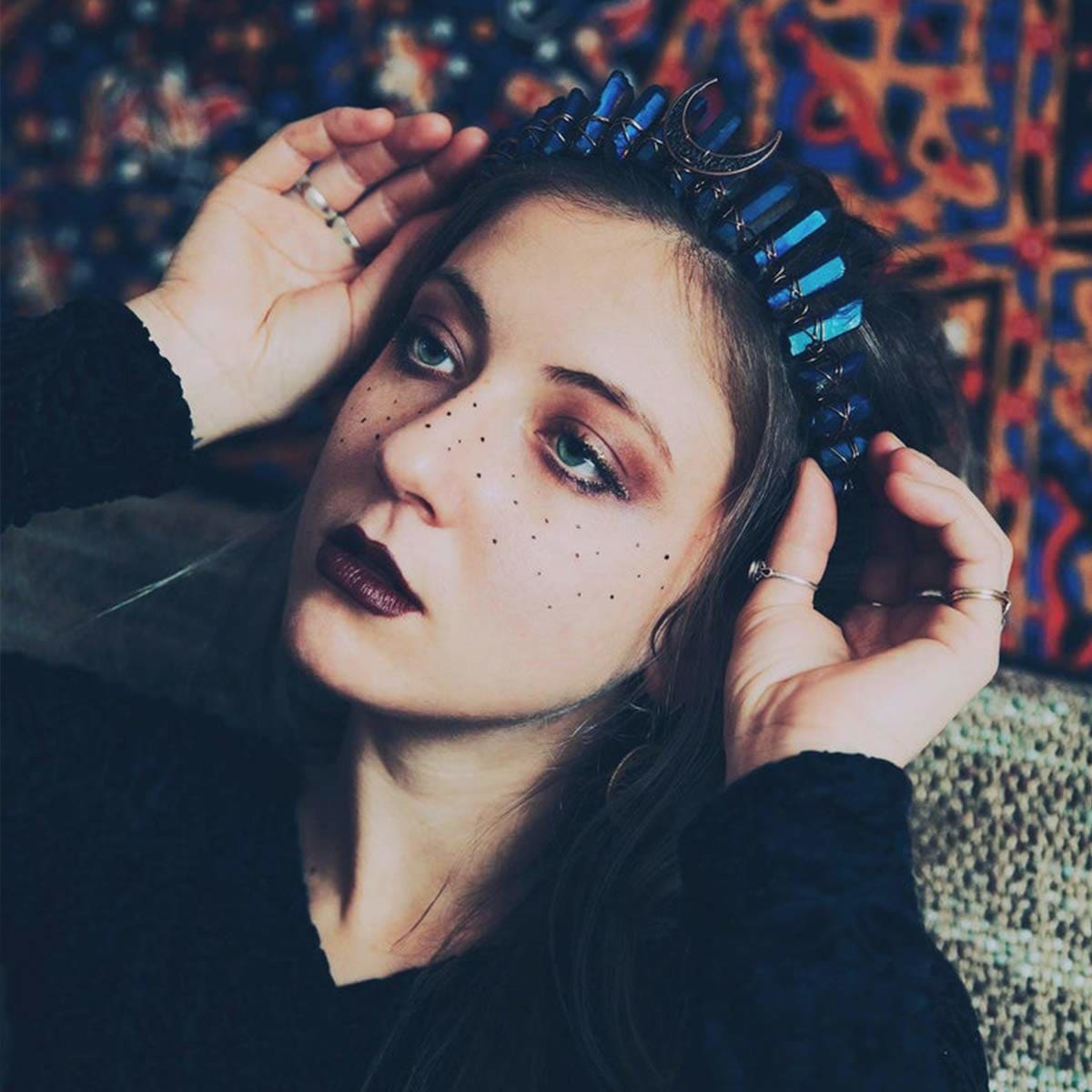 Moon Goddess Crown
This item is in stock now and ready to ship worldwide.
Scroll down for product details & size specifications.
This stunning genuine raw crystal moon tiara headband has substantial energetic power from not only the natural raw pointed shape of the crystal that harnesses it's spiritual power, but also the unique healing properties of the  crystal itself.
Embellished with beautiful emblems in various styles.

Wearing a raw crystal tiara or crown is especially powerful as it directly enhances your crown and third eye chakra and enhances your psychic and spiritual abilities while balancing your chakras with substantial power. (Plus, it's absolutely beautiful!)
Available in multiple beautiful crystals and stones. Several of the crystal's energetic profiles are explained below in a chart.  You can choose which suits your personal needs or fashion aesthetic! 
One size fits most male or female heads with a flexible headband.
Lovingly hand wrapped with quality materials.

Vibrant, powerful, unique, and energetically harmonizing, this gorgeous headband is perfect for spiritual yogis, alternative medicine and reiki practitioners, pagan and witchcraft cuties, and fashion enthusiasts alike.
All of our crystal jewelry is blessed before sending to ensure optimal positivity and energetic harmony.
Here's an energetic healing crystal guide for some of the crystals we have available in the tiara head band:
Amethyst

Amethyst has healing powers to help with physical and emotional ailments, especially so in chakra balancing. Amethyst crystal therapies are largely associated with physical ailments of the nervous system, the curing of nightmares and insomnia, and balancing the crown chakra. Amethyst is often regarded as the "cure all" crystal in that it can help with nearly anything, in some way or another.

Clear Quartz

Clear Quartz is known as the "master healer" and will amplify energy and thought, as well as the effect of other crystals. It absorbs, stores, releases and regulates energy. It repels negative energy, neutralizes radiation, including electromagnetic smog and petrochemical emanations.  It balances the physical, mental, emotional and spiritual planes.  Cleanses and enhances the organs and subtle bodies and acts as a deep soul cleanser, connecting the physical with the mind.  Clear Quartz enhances psychic abilities as well.
Rainbow Aura Quartz
Aura Quartz (Titanium Quartz) is very helpful for removing energy blockages and cleansing the Chakras, since they hold every color of the rainbow. In physical healing it is helpful for pain relief, depression, S.A.D, M.S and H.I.V..

Aura Quartzl is great to use when practicing astral journeying and out of body experiences. It centres and calms erratic emotions, and helps us achieve positive emotions easily.

Pink Tourmaline
Pink Tourmaline has balancing properties that help you move away from extremes, and into equitable emotional and intellectual states of mind. Pink Tourmaline, also known as rubelite, opens the Heart Chakra. It is great for connecting with the Earth on an emotional level
Pink Quartz
Rose Quartz (Pink Quartz) assures trust and harmony in relationships, and encourages unconditional love. Rose Quartz purifies and opens the heart chakra to promote love, self-love, friendship, and inner peace.
Smoky Quartz
Smokey Quartz is a wonderful grounding stone. It neutralizes negative vibrations and detoxifies on all levels, triggering elimination of the digestive tract and protecting against radiation and electromagnetic smog. It also promotes mental clarity.