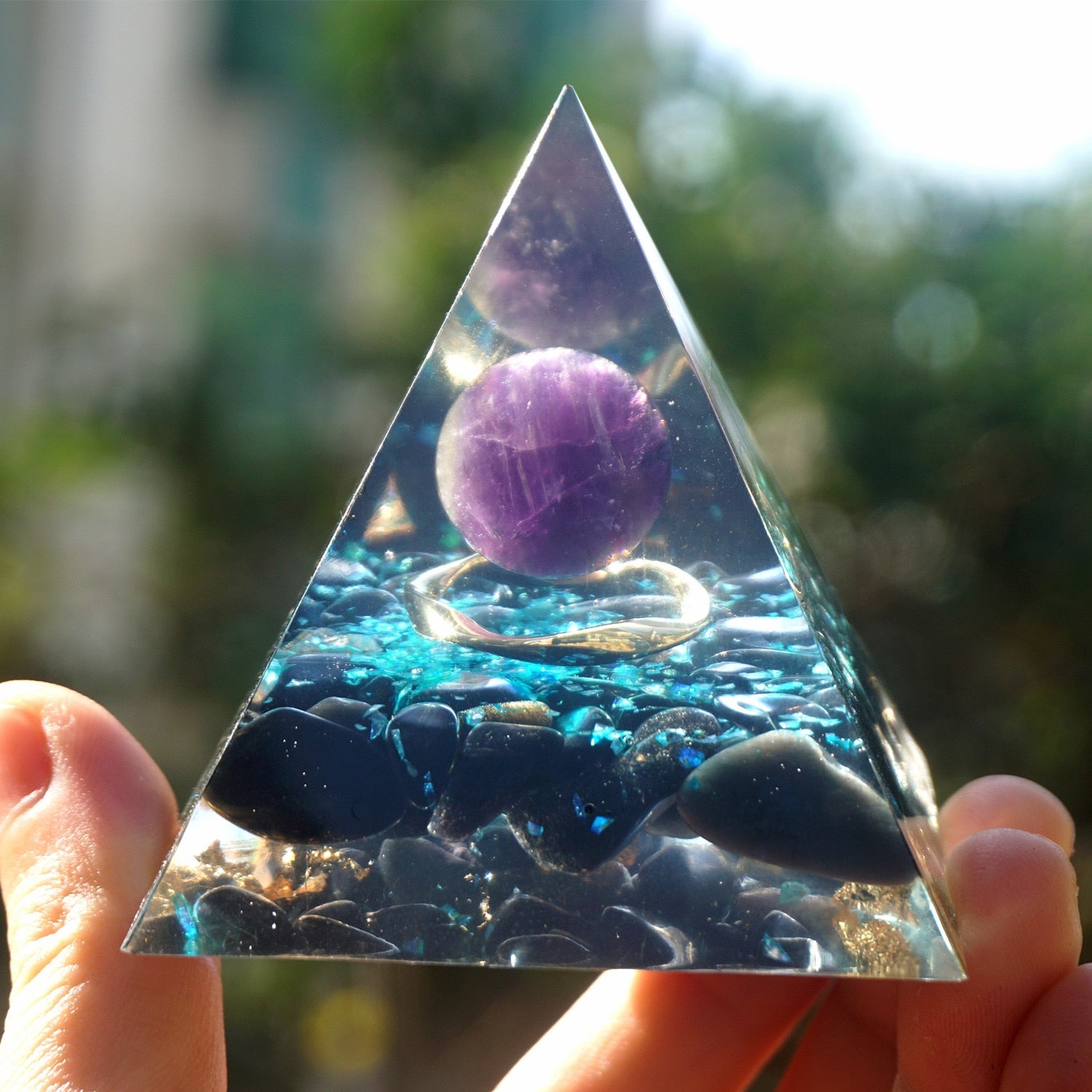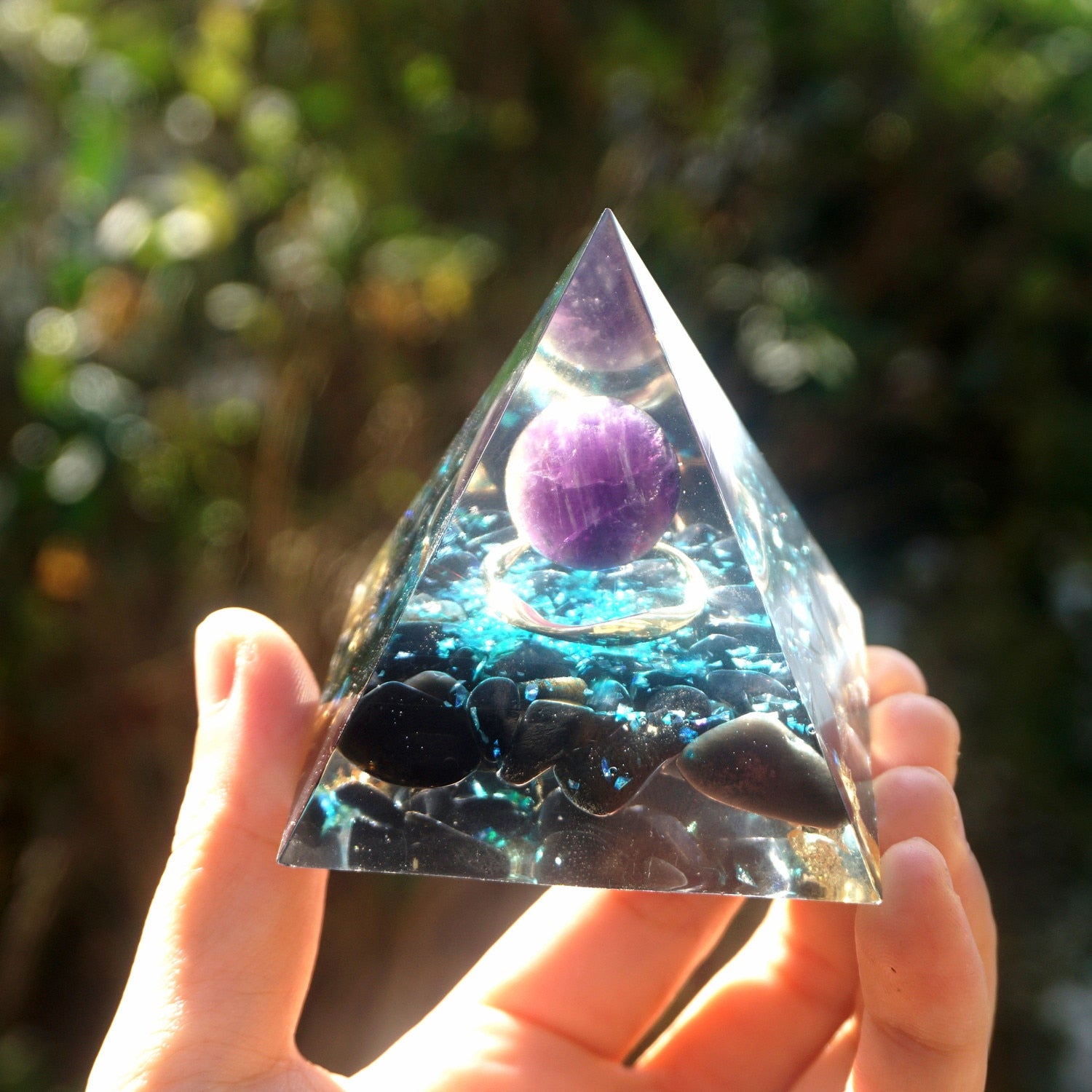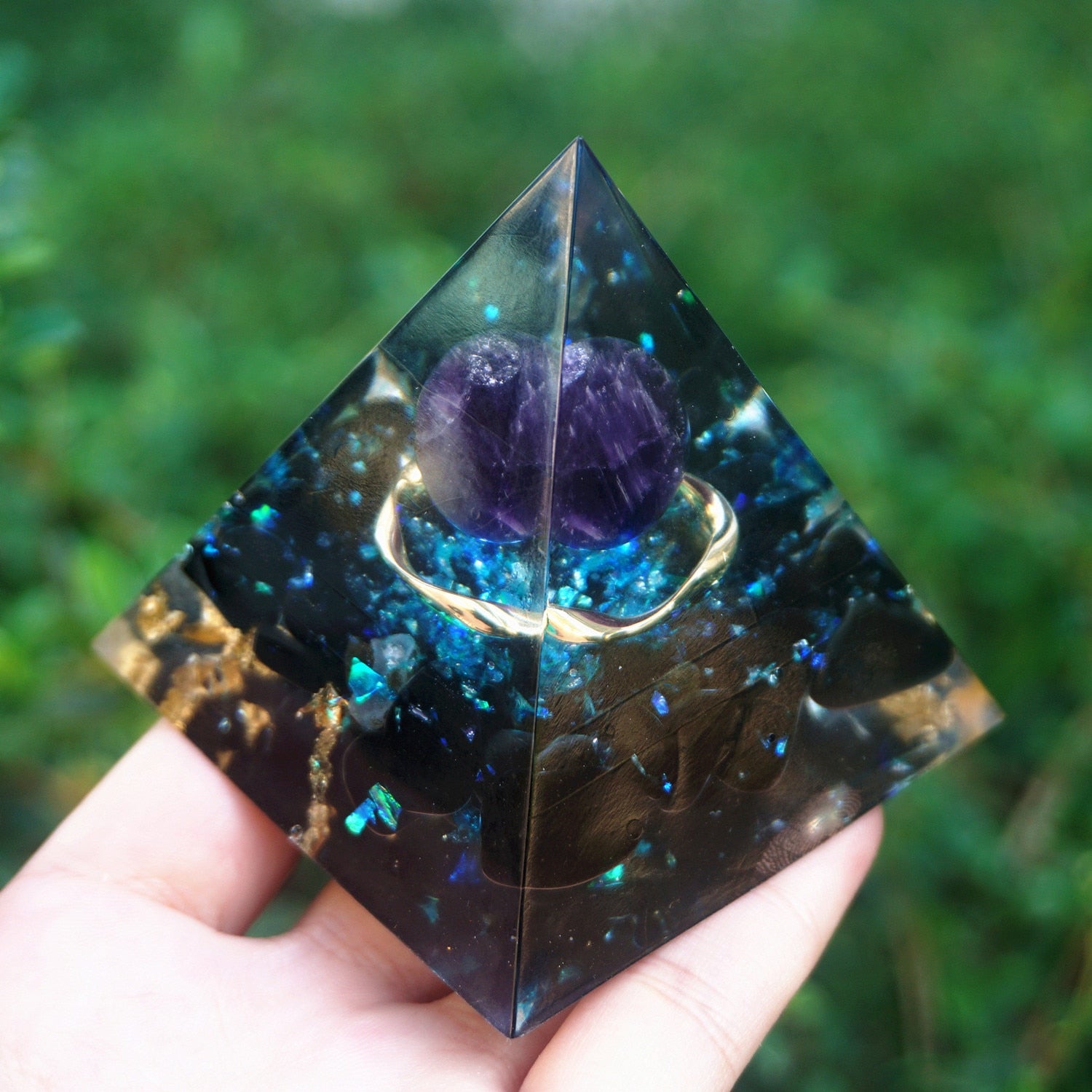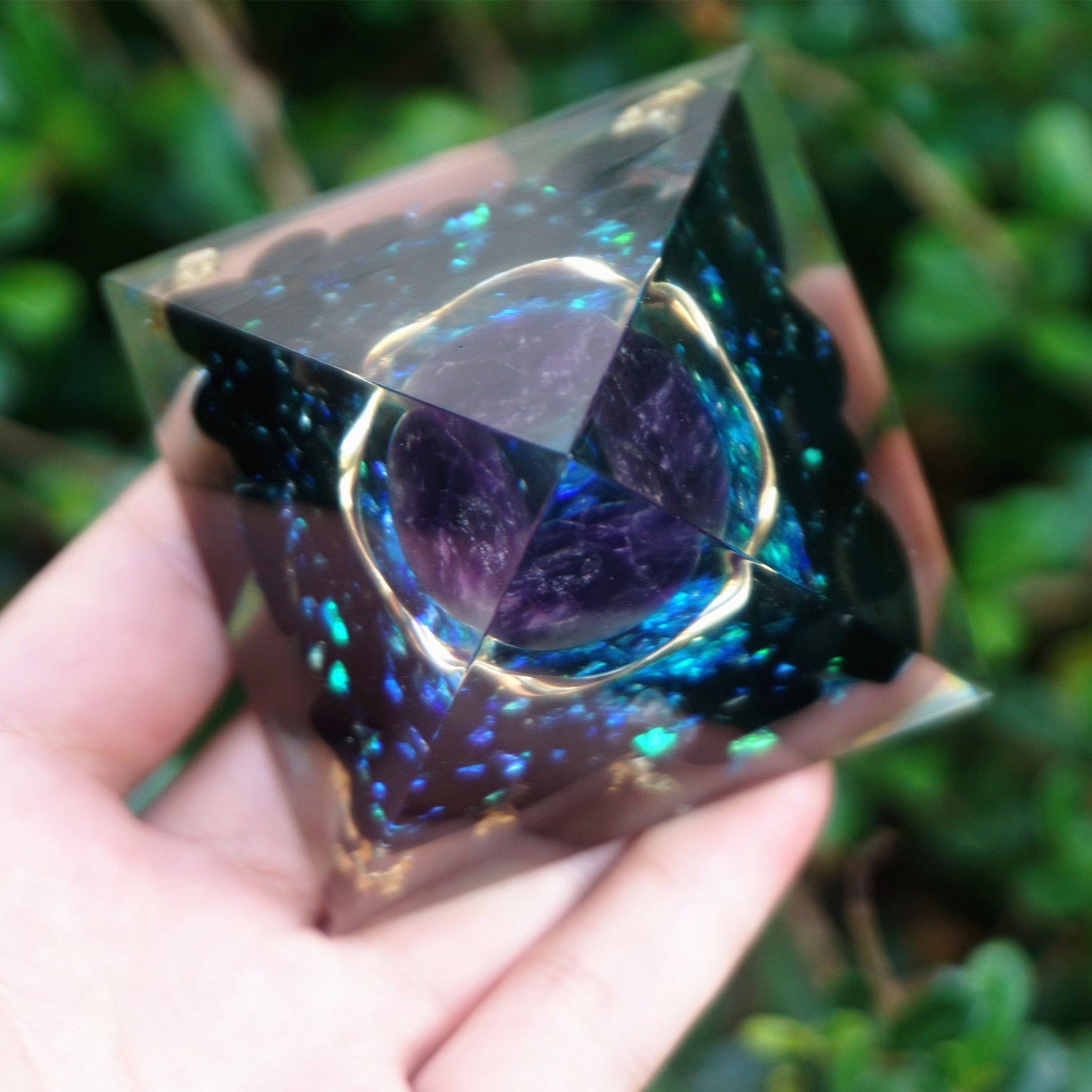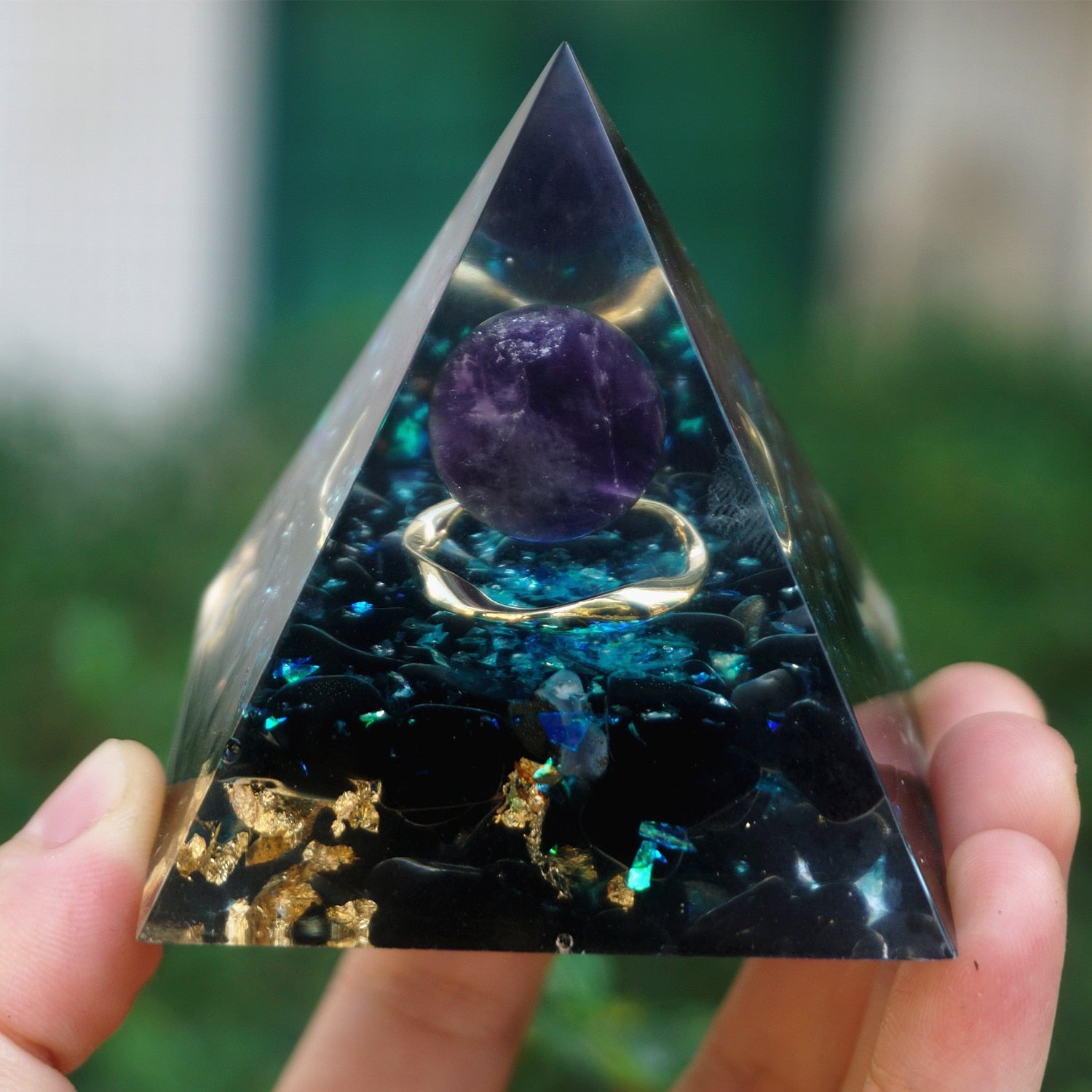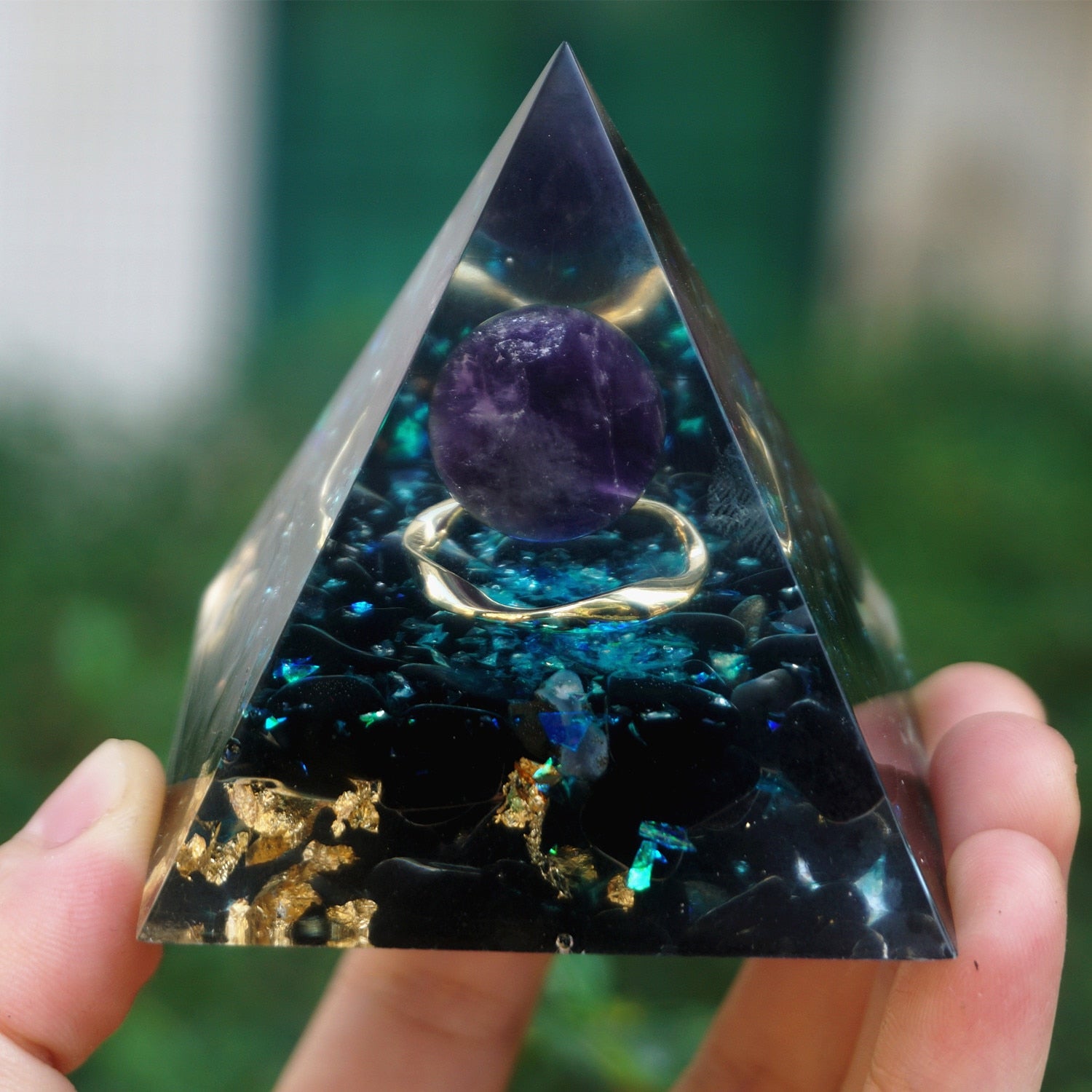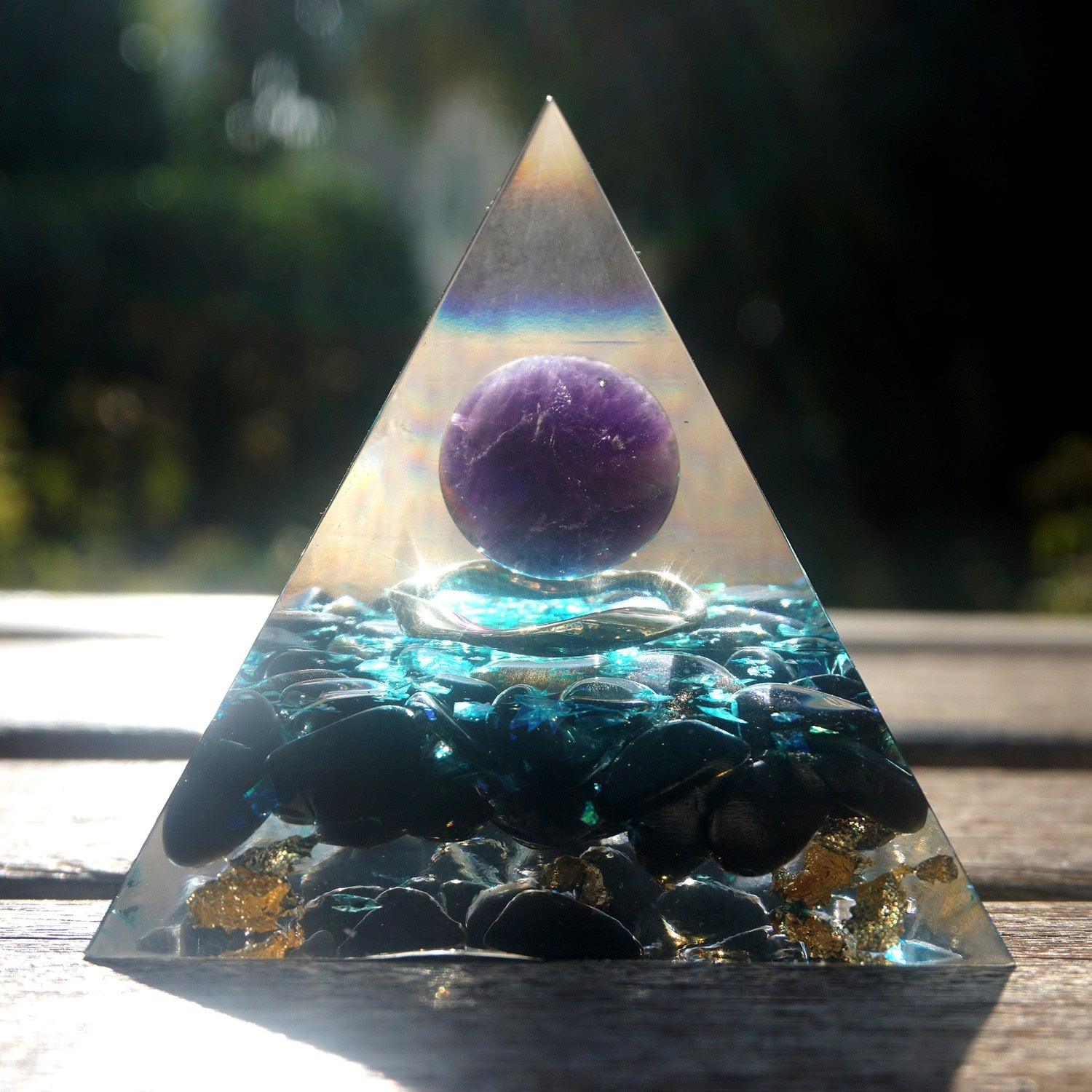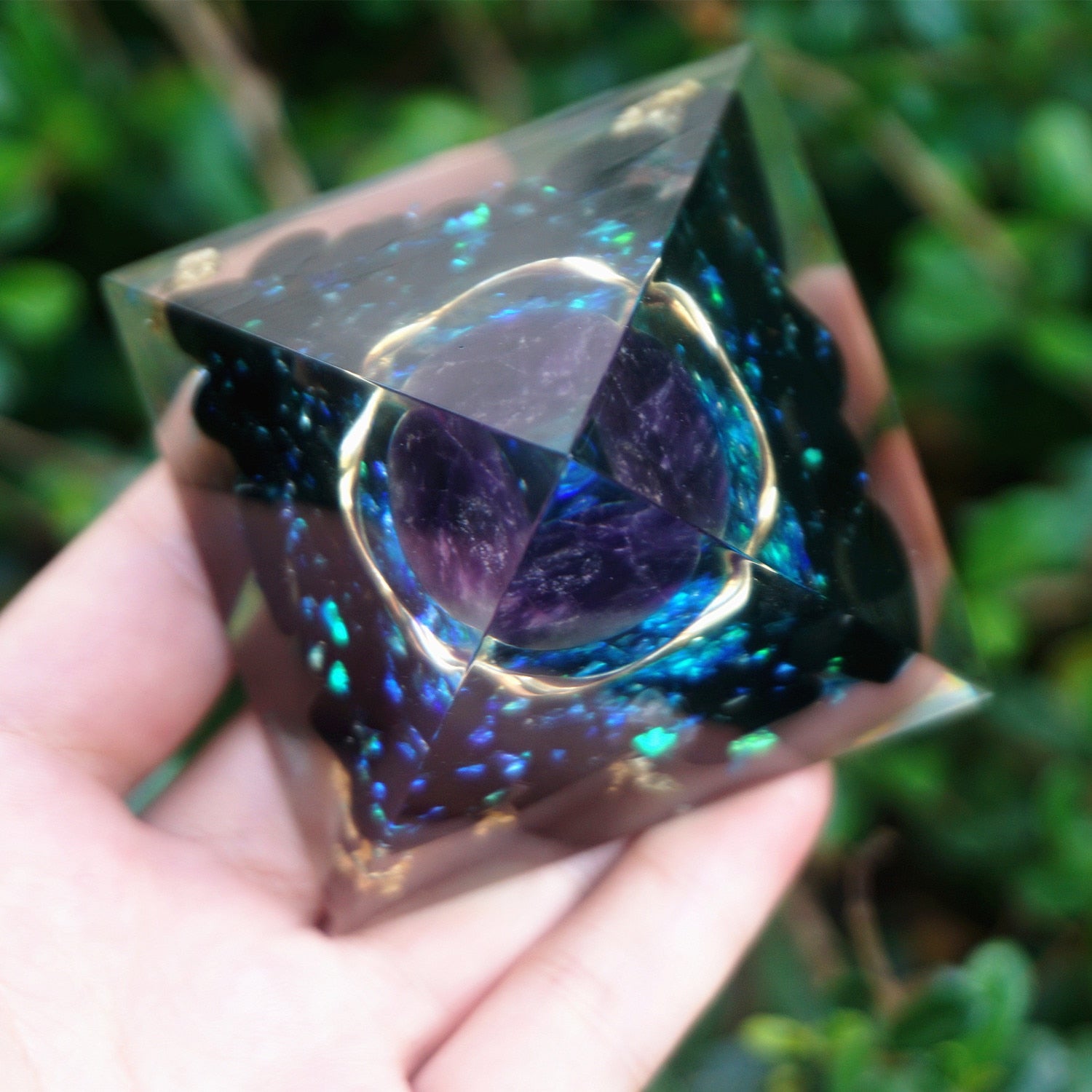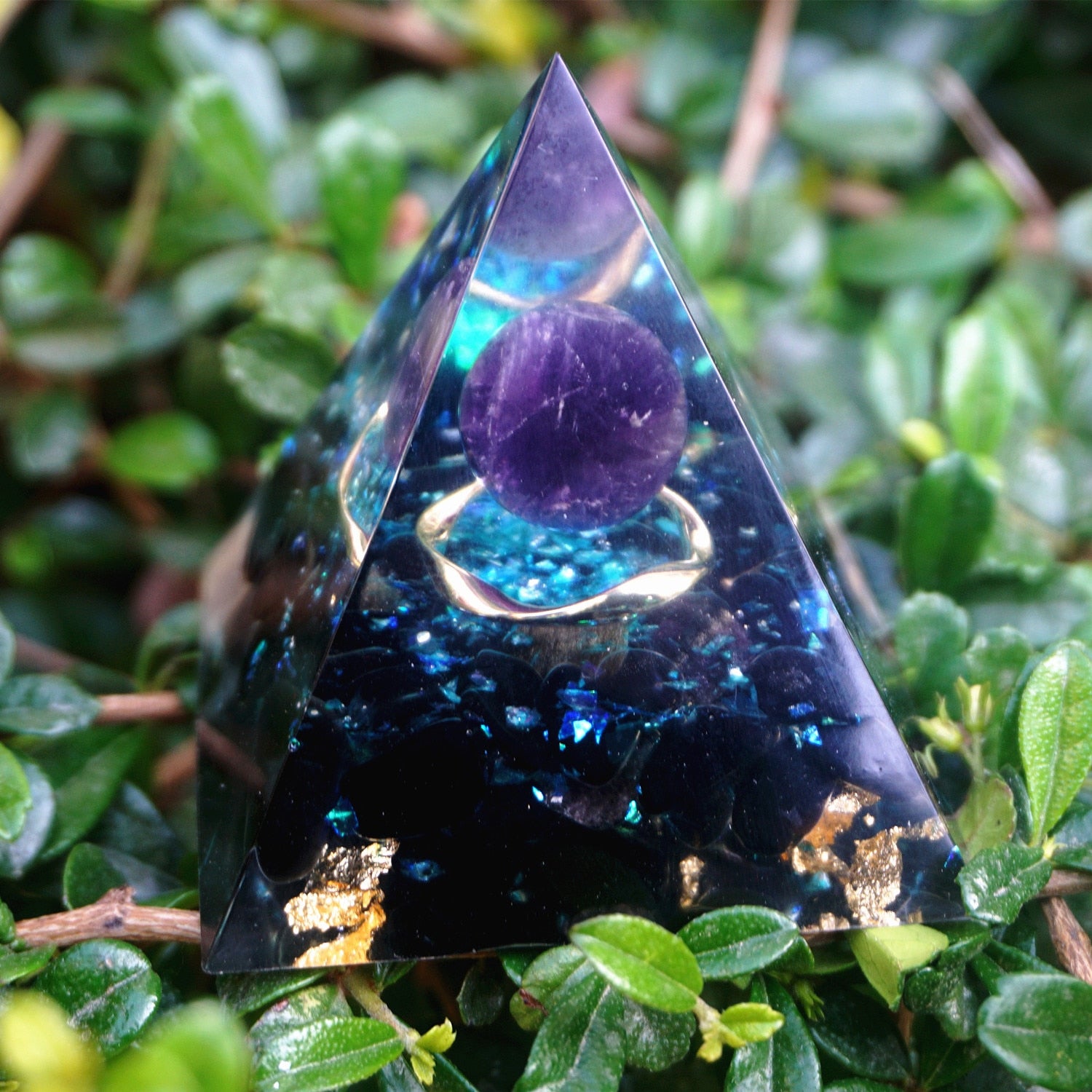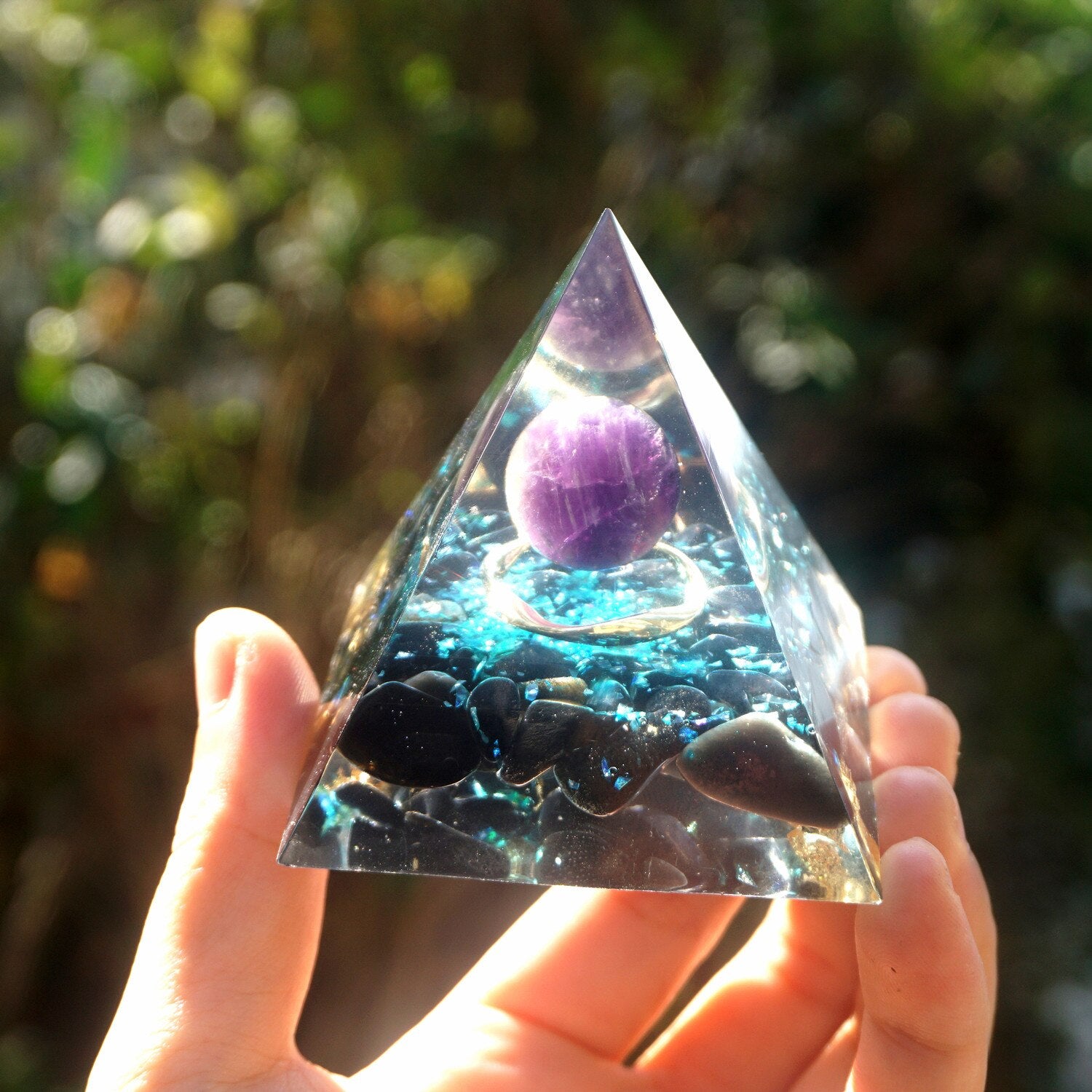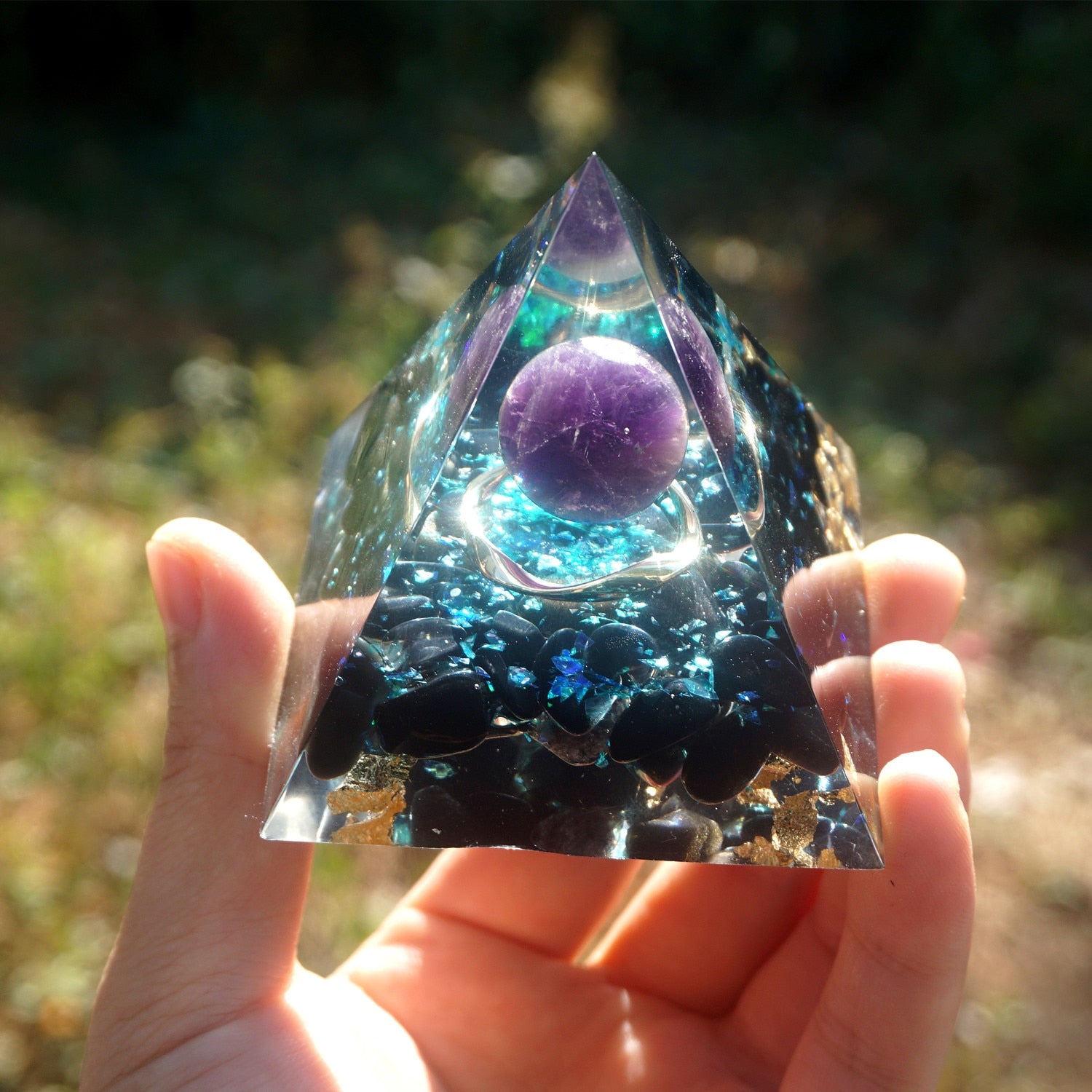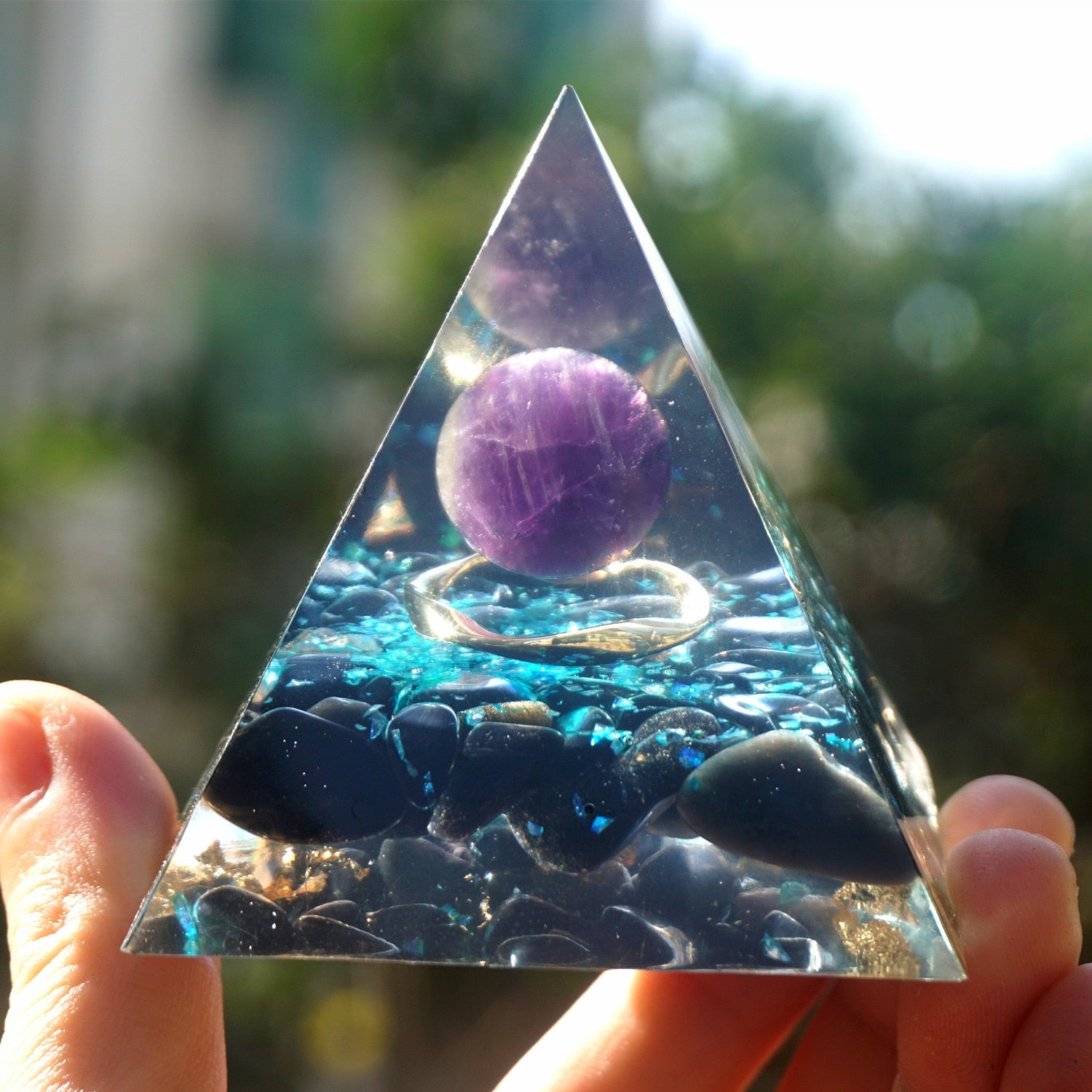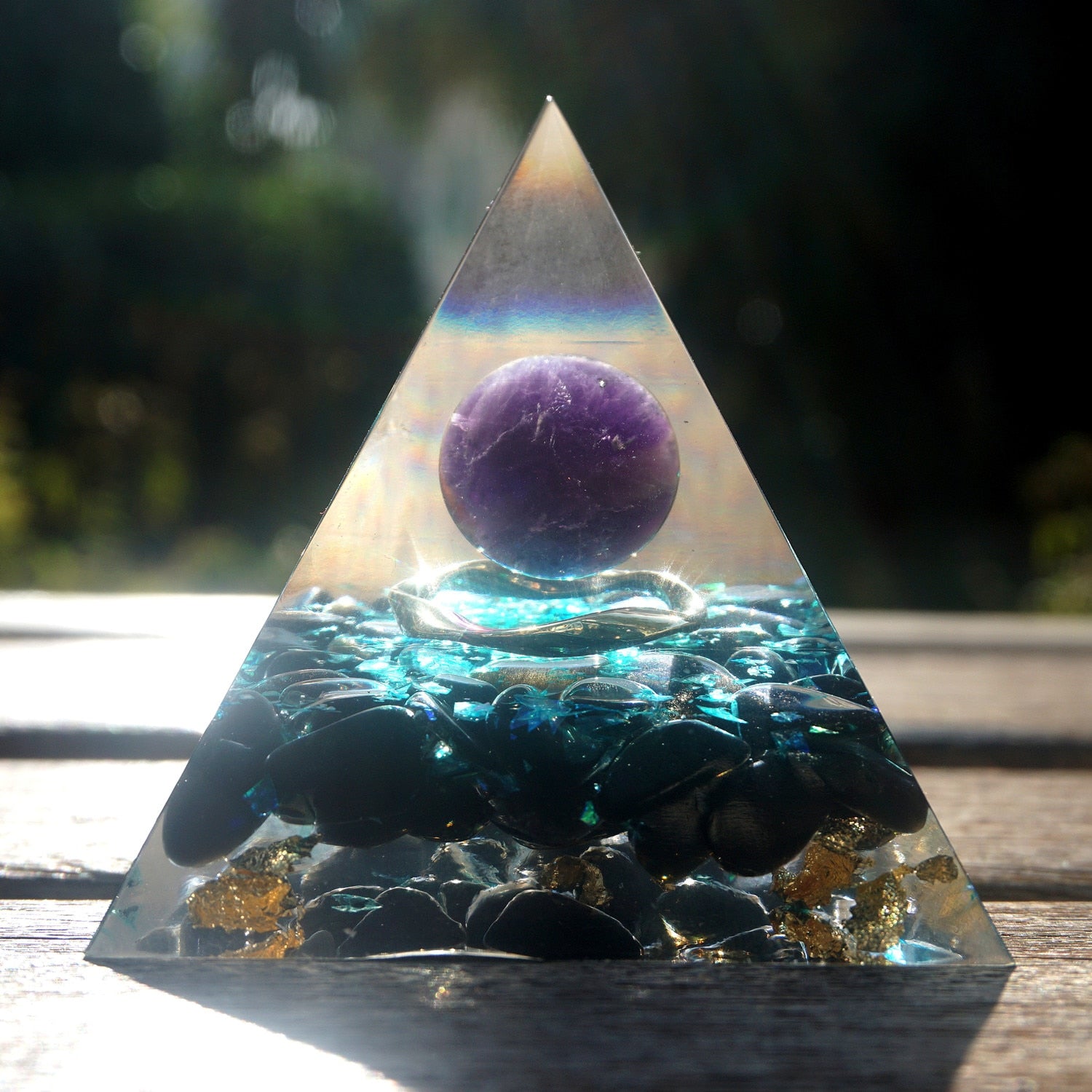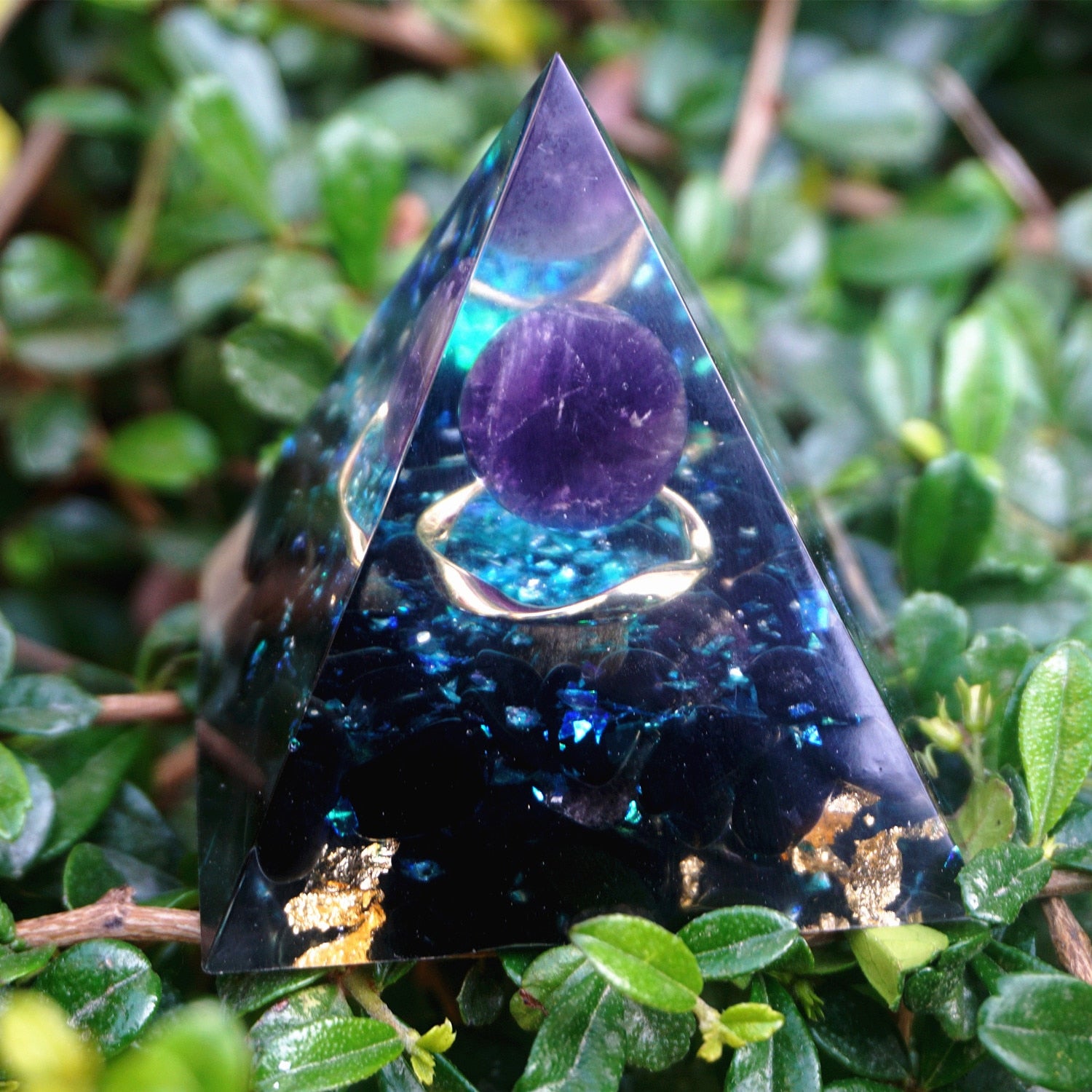 Ocean Amethyst Orgone Pyramid
This item is in stock now and ready to ship worldwide.
Scroll down for product details & size specifications.
You'll get lost in the beauty of this carefully crafted and handmade purple amethyst & blue oceanscape orgone pyramid! 
Features include: Raw copper, a large polished amethyst sphere, polished obsidian tumbled stones, in a classic orgone pyramid base.
Combining the power of the sacred platonic solid, the majestic energy harnessing pyramid, with the healing and balancing powers of the carefully stacked raw crystals inside! This energy healing pyramid can be used as both a powerful energy generator, healing modality, or stunning show piece in your crystal collection.

Crystal Pyramids can be used to draw off negative energies and blockages from the chakra system, replenishing energy and balancing the energy centers.
Crystal Pyramids are powerful spiritual tools that transform Universal Life Force Energy (Chi) into a very powerful positive energy that offer tremendous benefits to one's physical, mental, emotional and spiritual wellness.
Pyramid Size: 60mm

This purple amethyst, quartz, copper, lotus pyramid can be used for healing, manifestation, chakra balancing, energy magnification, energy direction, energy charging, protection, divination, and fengshui.

In addition to it's metaphysical uses, it can also be used as a physical paperweight, home decoration, bookend, and more.

All of our crystals are blessed before sending to ensure optimal energetic harmony.
Here's an energetic healing crystal & symbol guide for the crystals & symbols included in this powerful crystal pyramid:

Amethyst


 

Amethyst has healing powers to help with physical and emotional ailments, especially so in chakra balancing. Amethyst crystal therapies are largely associated with physical ailments of the nervous system, the curing of nightmares and insomnia, and balancing the crown chakra. Amethyst is often regarded as the "cure all" crystal in that it can help with nearly anything, in some way or another.
Copper
Copper is a soft metal with extremely high conductivity. It is used  because of its thermal and electrical charge. Copper's purpose energetically is often to conduct energy, clear out negativity, and assist in balancing the chakras.
Orgone
Orgone is used to clear negative energy, counteract electromagnetic fields, and help improve your life physically, mentally, and emotionally.
Please allow for some minor variations in color/size/shape when purchasing from our stunning crystal and stone collections - these are all made from real, raw, genuine crystal or stone and each has their own individual look and feel! We like to believe the crystal or stone(s) you receive are the ones most powerfully representative and connected to YOU, and we bless it to fulfill your own unique spiritual needs.